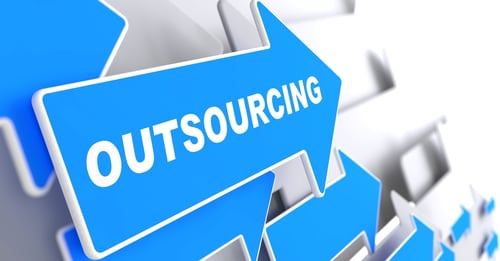 It's the age-old question: outsource your to-do list or keep it in house?
Ok, so it's actually a pretty new question … as it's only relatively recently that businesses have started to reap the rewards of virtual assistants. But which is better for your business?
Let the battle commence.
What's the difference between outsourcing and in-house?
Let's start off with the difference between outsourcing and in-house, otherwise known as insourcing.
Outsourcing means handing over the reins of certain tasks to someone outside of your business, such as a virtual PA. Keeping it in-house means – you've guessed it – having the tasks carried out by one of your own employees.
Why would I need to outsource?
You're busy. Your inbox is overflowing, you've got back-to-back meetings for the next six months and you can't remember the last time you left your desk.
Okay, maybe that's a slight exaggeration. But chances are you've got a lot on your plate and not much time to do it in.
Running a business, no matter how big or small, can be all-consuming. Outsourcing services means you can delegate the tasks that you don't need to be handling, to someone who is a total whizz at it.
Jobs that take you days to complete may take them just a few hours – and you can use all that saved time to focus on growing your business.
It can also be a lot more cost-effective in the long run to outsource, as you're only paying a contracted number of hours for the work you need. And who doesn't want to save money?
What type of tasks could I outsource?
You can outsource pretty much any of your tasks. But some of the most commonly-outsourced tasks include admin, bookkeeping and HR.
Think about it this way – which jobs drain the most of your time? Which jobs do you feel like you could pass over with a minimal handover?
Chances are there are quite a few items on your to-do list that you could easily be taken over by someone else.
It might also not make financial sense for your business to hire a full-time member of staff to carry out particular back office processes. Particularly if you're a small business, it probably doesn't warrant having someone on your team dedicated to them. A virtual assistant, on the other hand, is wonderfully flexible, and can do as many or as few hours as you need.
Are there any downsides of outsourcing?
If you've got someone available in-house, they're there to help whenever something unexpected comes along. Whereas if you have an outsourced service, this isn't always the case – unless, of course, you have an ongoing contract in place that means you can get support as and when it's needed.
You also might worry that someone from outside your business won't be able to pick it up as easily. Luckily for you, SmartPA only offers professionals in their field who can hit the ground running.
Which is better – outsourcing or in-house?
Outsourcing wins. Are we slightly biased? Perhaps.
Do we only want the best for your business? Absolutely!
If you need a little more convincing, drop us a message and we'll tell you more about how we can revolutionise the way you work.