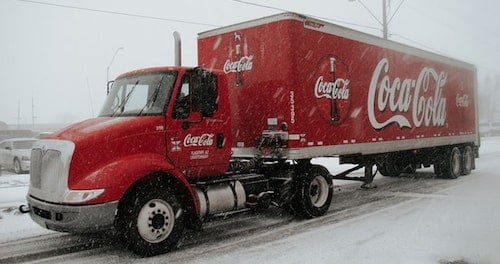 In the immortal words of the Coca-Cola truck, 'Holidays are Coming'.
The decorations are up, the Christmas tunes are playing and you're in the festive spirit – but there's one tiny problem.
You're still working.
Although you might want to do nothing more than crack open a bottle of Bailey's and lie on the sofa watching Elf, for many workplaces, the run up to Christmas is just as busy – if not busier than – the rest of the year.
So, how can you stay motivated at work before Christmas, without losing your holiday spirit?
Keep your work/life balance in check
Not only is it busy at work, but at home, you've got presents to buy, fridges to fill and plans to make. Particularly if you're working from home, the boundaries between your work life and home life can easily become blurred. And if you've got your kids at home too? Even harder to keep it in check.
If you're working through a report and then suddenly remember that you haven't ordered a gift for your cousin, or that you forgot to pick up some Prosecco – write it down. As tempting as it might be, don't give into the urge to have a sneaky browse on John Lewis, as it'll just disrupt your workflow. Keep a homelife to-do list on your desk so you can jot your ideas down, so come 5pm, you can get back in full festive mode with your family.
Get on top of your planning
You've got a presentation next week … but what's this? Your colleague forgot to mention they've booked it off and can't actually help out? Or you need to call a supplier, but they've already gone on their holiday shut-down?
Even if the only calendar you care about in December is the type that's filled with chocolate, it's going to save you a lot of hassle if you get on top of your planning.
Take the time to map out the month ahead, taking into account annual leave, Christmas closing hours and any other unexpected occurrences. Or, if you're struggling to find time to keep up with your diary management, you could always get virtual PA to help you out with some priceless back office support.
Think about the future
As wonderful as 2020 has been for us all, 2021 is right around the corner – so it's a good time to start thinking about what's next.
How could you improve your business offering, or boost your skills? How could next year be better than this year (apart from, you know, not having another global pandemic)? Now's the time to start thinking ahead and coming up with plans to get you motivated into the new year.
Pro tip: Don't think 'this is a problem for my future self' and put off work until after you come back from your Christmas break. Your future self will NOT thank you for that. Start off 2021 on a high!
Look after yourself
It's dark. It's cold. Why would you want to go outside, when inside is so cosy and inviting?
Well, because if you're working from home every day, you'll quickly become sluggish and restless if you're cooped up inside. You know who is unproductive? People who haven't left their desk for five consecutive days. Put on your coat and go for a walk, even if it's just ten minutes in your lunch hour.
On that note, we know that in December, your diet will primarily consist of chocolate, cheese and wine – but for your own sake, try and eat a vegetable every now and then. No-one works their best when they're solely fuelled by Dairy Milk.
Embrace the festive spirit
If there's ever been a year where we all need a bit of positivity, it's this one. Drape your desk in tinsel and don your finest reindeer jumper – whatever it takes to get you in the Christmas spirit.
It's a season of chaos, but it's also one of happiness, so find small ways to make your working day that little bit more magical.
We know it can be a hectic time of year, so if you're looking for some extra support to get you through the holidays, SmartPA is here to help - get in touch.