Supporting our clients, 24/7
Delivering world-class admin support
24/7 Live Chat & Telephone Answering Service
Integrated telephone answering services for your business.
---
SmartPA provides you with a call handling team with international coverage, who get to know you, your business, and your customers.
Never miss a call again with our 24/7 phone answering service and virtual receptionists.
Business phone answering
Message taking
Follow-ups, overflow and call diverting
Appointment booking
Diary management
Route planning

All underpinned with regular reporting and analysis to enable data-driven decision making.
Get more with SmartPA
---
Our team goes the extra mile and we aim to provide the best service on the market. Our business hours coverage extends the furthest than any of our competitors and we have a set rate for additional minutes.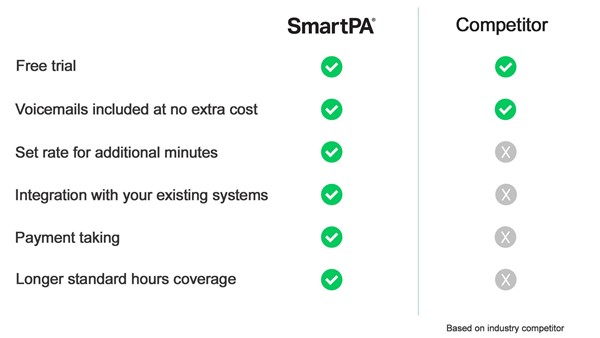 Trusted by:




Frequently asked questions
How is the cost of my package calculated?
Do you charge for call transferring?
How do I get notified of my calls?
What if I receive multiple calls at the same time?
How do the team answer the phone?
How do I know the length of my calls?
Can I start on a free trial?
Sign up for our business news where we share growth, productivity and cost saving news.