The ethical business revolution begins
When Sarra Bejaoui started her career as a receptionist with an Edinburgh design and marketing agency on Dublin Street South, she always knew that one day she would have her own business. However, she was determined to do things differently to other companies and build something with ethical values at its heart. Driven by Sarra's passion for people, that same office building she worked in is now the headquarters of SmartPA, the market leading outsourcing, virtual assistant, and business support brand.
Co-founded in 2008 alongside CEO, Andrew Wright, SmartPA rapidly grew to become experts in administrative and call handling services, with female empowerment at the heart of its operations.
Staff are recruited on a partnership basis as part of a revolutionary ethical franchising model, ensuring SmartPAs, many of whom are women returning to work after a career break, keep all their own revenues without any extra charges after a one-off set-up and marketing fee. Unlike the cut-throat culture adopted by other companies, which impose charges long after the franchise is set up, SmartPA franchisees we like to call Partners, keep every penny they make once they're up and running.
This innovative model means the SmartPA brand now spans the globe with a roster of highly trained 50,000 SmartPAs in 20 countries, supporting over 3,000 clients, while our specialist training programme has been accredited by the Continuing Professional Development Standards Office (CPDSO), earning the global gold standard.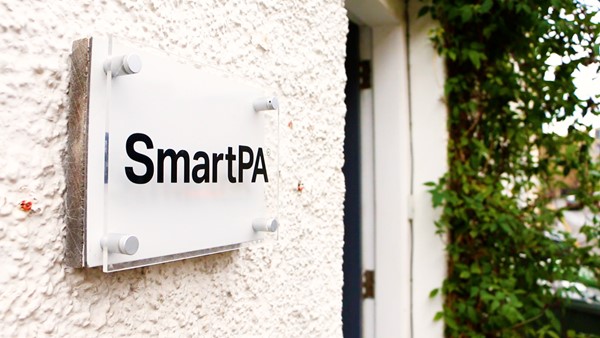 From our roots in Edinburgh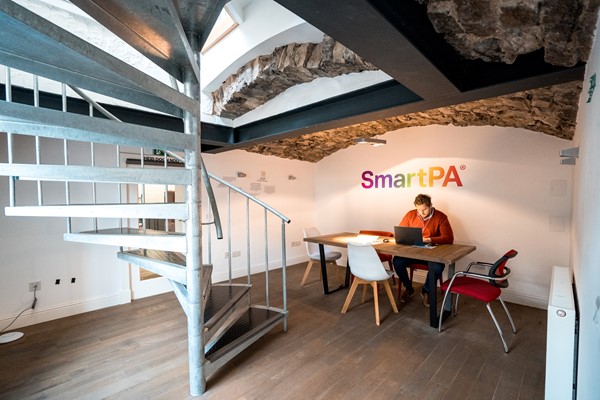 Both Sarra and Andrew have never forgotten their roots, growing up in Edinburgh council estates, with a strong ethos of promoting equality running throughout the business.
"My hunger for success and need to be the best version of myself has always been present and I try to mirror this in everything that I do" Sarra says. "I wanted to create a business that empowers people to be the best version of themselves as well." Sarra began the firm as a service to help time-poor, high-net-worth individuals.
Andrew, whose extensive business experience includes the hospitality industry and food tech, was among her clients. With the global financial crash looming he suggested a switch to B2B [Business-to-Business], as increasing numbers of firms sought cost-effective support just to survive the meltdown. This became the smart-pa.com brand offering agile PA and call handling services to business here and offshore.
"Sarra completely inspired me," Andrew recalls. "She is a very empowered female herself and has a great ambition."
To a global success story
We quickly chalked-up a string of milestones as we moved from supporting one-person start-ups and SMEs to securing the first corporate accounts.
The number of SmartPAs has grown from just 50 a decade ago, with trained and vetted support staff offering executive and administrative services. They work in 'SmartPods' providing a main point of contact, backed up by colleagues with a huge range of skills and experience. This industry-leading innovation mitigates against the risks and impact of sickness, holidays and staff attrition while cutting costs for clients.
We now have partners in Dubai, Malta, the US, Ireland, France, Malaysia, South Africa, Bulgaria, Germany, Spain and Japan. Meanwhile, the establishment of business outsourcing hubs in Malaysia and South Africa is helping deliver fair wages across disadvantaged communities, while our head office in Edinburgh deals with client engagement, marketing, business, support and finance.
With an eye on the future.
Demand continues to grow for our services and e-learning packages in the post-pandemic business landscape.
A pioneer in remote working long before the Covid lockdowns, all SmartPAs are put through a rigorous eight-to-10-week training programme. Staff and Partners are kept abreast of the latest industry practices and procedures in areas such as cyber security, with the best training available and the innovative SmartPod solution providing them with support.
Our learning and development team are always striving to deliver the highest-quality courses with ongoing support for our SmartPA partners or ethical franchising part of the business includes training, business coaching, IT, technology, sales, and marketing. The world of business support and call handling is constantly evolving, and we continuously ensure that the training we offer is cutting-edge.
Sarra and Andrew are determined to continue disrupt and transform the way the world does business. They believe SmartPA can create a legacy of female empowerment, which is why we are currently developing ambitious plans for a not-for-profit outsourcing centre in Uganda, training up to 20,000 people, 80% of which will be women.
For more than a decade, we have worked to address the gender equality gap by creating opportunities to empower women.
Watch our video to learn what makes SmartPA so unique:
Sign up for our business news where we share growth, productivity and cost saving news.