As we kick off Wellbeing at Work Week on November 13th, join us in exploring how our team prioritises their health and happiness. Through our Q&A interviews, discover how we make the most of our allocated wellbeing hours and stay on top of our wellness game. Stay tuned for daily updates!
We're delighted to introduce you to Katie, a Finance Assistant at SmartPA, as we delve into the world of wellbeing at work this week. Katie has agreed to share her insights on the importance of wellbeing and how it has positively impacted her work and life.
What does wellbeing mean to you and how much do you value it?
"Wellbeing is something I value a lot! Unfortunately, I have a long-term health condition, so my physical and mental wellbeing is something that I place focus on. Wellbeing for me is about the all-round balance of healthy body and mind."
How has your approach to wellbeing, with the support of SmartPA, influenced your overall happiness and productivity at work?
"I would say my overall happiness and productivity at work has been positively influenced. If you feel overall happy and well within yourself then you apply yourself to tasks better and have more focus on work. It's great to work at SmartPA where wellbeing is valued and something that is focused on."
What activities do you enjoy during your "wellbeing hour" to relax and recharge?
"During my last wellbeing hour, I spent the hour taking my 3 dogs for a walk at our local forest. It was great to be able to spend extra time with them and to get outdoors for an hour. I plan to use my wellbeing hours in future to walk with the dogs or go for a swim. Here is a picture of Roxy and I below! 😊"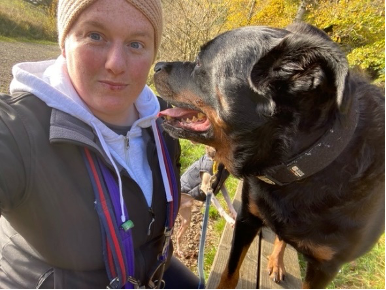 What advice would you give others for maintaining a healthy work-life balance and overall wellbeing? Are there any specific books, apps, or resources you recommend for enhancing wellbeing?
"Advice I would give is to have switch off time, when you are finished work then switch off everything relating to it. It's important to remember that work is just one part of your life and other aspects of your life deserve your full attention too! It's important to enjoy your time off and this will help you come back feeling fresh, rested, and motivated."
---
About SmartPA
From individual virtual assistants to multi-skilled virtual teams, no matter the size of your business, objective, or challenge, SmartPA has the perfect solution to help your business increase efficiency, drive productivity, and maximise profitability.
Find out how SmartPA can support you here.