Supporting our clients, 24/7
Delivering world-class admin support
COVID-19: Economic Impact on Businesses Report
COVID-19, what does this mean for business?
Coronavirus facts: SARS-CoV-2 was detected in late 2019, and the spread of COVID19 soon followed
Not long after COVID-19 was first detected in the late of 2019, the coronavirus was having an overwhelming global impact. Coronaviruses are a class of respiratory viruses that has proven to be highly contagious; on average, each infection will infect more than two additional people. According to the World Health Organization (WHO), the current pandemic statistics show the developed world, mainly the Americas and Europe have been most affected, with 90,335,008 confirmed positive cases worldwide, including 1,954,336 deaths (WHO, 13th January 2021) (Figure 1).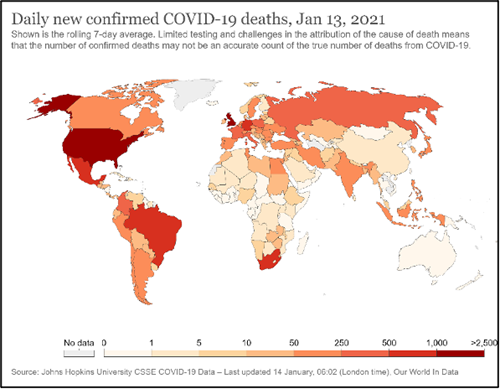 Figure 1 (WHO, 2021)
Bolstering healthcare systems, resources (with a particular focus on vulnerable populations) and funding the development and distribution of medical supplies, are all countermeasures for long-term management of the crisis. To achieve this in the face of an unfamiliar new virus, these measures have been supported by policies and laws that help reduce transmission. In an attempt to curb the spread, the United Kingdom is the first country to administer the clinically authorised vaccine produced by Pfizer and developed by its German partner BioNTech. By February 7 2021, 3,559,179 first vaccines doses, and 324,233 second doses had been administered in the UK, as the government seeks to curb the spread, as is necessary for its citizens to return to normal living and the world of work, yet welcoming the new normal (BBC, 14 January 2021) (Figure 2).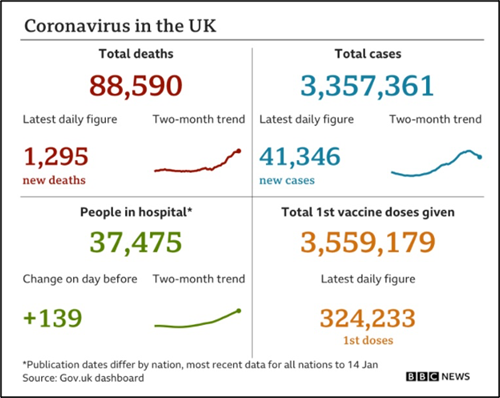 COVID-19 and the impact on businesses
As governments make significant interventions in response to business and economy, signs of the impact of the coronavirus pandemic revealed early on that health-related lockdowns would lead to widescale economic challenges. The business impact has shown businesses being shut down and—in some countries—record unemployment, as governments move swiftly to bolster their economies and support the people. Globally, governments allocated a stunning USD $10 trillion of economic stimulus in just two months, signifying the severe impact of coronavirus to the world. This figure has been tripled compared to what was spent during the entire 2008–09 financial crisis (McKinsey and Company, 2020).
Businesses have had to speedily adjust to the changing needs of their employees, customers, and suppliers, while navigating financial and operational business challenges. Early in the lockdown, chief executives weren't responsive to the adoption of innovation in business. They instead prioritised efficiency and keeping their core business stable over innovation, expecting to reprioritise innovation only when the crisis has passed (McKinsey and Company, 2020).
The devastating impact of the COVID world however, had CEOs change focus rapidly toward accelerated digital transformation. By November of 2020, just six months later on into the global lockdown, organisations digitised many of their activities 20 to 25 times faster than they had previously thought possible. When it came to rolling out remote working, companies now moved 43 times quicker than they would have, and 25 times faster to increase the use of advanced technologies in operations, and business decision-making (Figure 3) (McKinsey and Company, 2020).
Furthermore, 86% of UK CEOs agree that there is now a sustained shift towards remote collaboration for the business industry. So much so that 77% of UK CEOs also say remote collaboration will drive long-term change to their business models (PWC, 2020). This has now become the new normal moving forward, as the latest happenings in business world arising out of the pandemic.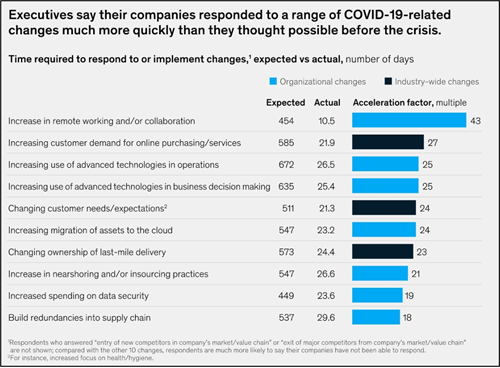 Figure 3 (McKinsey and Company, 2020)
Embracing Business Process Outsourcing (BPO)
The future of outsourcing- flexibility, responsiveness, and digital adoption.
CEOs are combating the effects of the lockdown on their businesses, by endeavouring for financial stability through generating revenues, while outsourcing their non-core business functions. These have become recent business problems, which were not necessarily apparent pre-COVID and the lockdown. As competition for businesses continues, adding to the pressures of the impact of loss of business or income, they are expected to take advantage of areas they can leverage to improve efficiency and reduce costs. In doing this, CEOs are afforded more time and human resources to focus on generating revenue activities.
Bringing more efficiency to the daily workflow while also scaling productivity has become the focus of many businesses. Working with an experienced outsourcing provider has implications for helping CEOs overcome productivity challenges, streamline operations, and add additional resources that may be lacking in-house. From sales to recruitment to operations, outsourcing provides an unlimited number of opportunities to help CEOs and their businesses work smarter (Deloitte, 2021).
While saving time and money usually gets all the attention for CEOs embracing the business process outsourcing model, it can also support management during this time of the new norm, as what is now considered normal to:
Grow and innovate, as more resources - capital and manpower are now dedicated to these areas because of savings incurred from outsourcing non-core activities. Management can focus much more on building its core activities.
Reduce expenses overall, by removing the need to hire or train new full-time employees such as human resources and administration and having to purchase IT infrastructures which can be quite costly.
Reduce occupancy costs. Statistics reveal that empty office spaces after the coronavirus pandemic could cost London businesses £13bn, and over 70 percent of all office rent paid by businesses in London will be spent on empty desks.
Access an on-demand larger talent pool, with much more specialised skill sets, which will, make better use of existing employees' talents, which can increase employee morale, boost talent retention levels, and productivity, thereby benefitting the company in the long run.
New opportunities are created in-house: when non-core activities are outsourced, it opens employees' mindset to support management in more strategic management activities and projects that might not have been so before. This also brings more ideas and creativity to the decision-making table.
Access latest technologies and systems. Outsourcing companies specialising in a particular outsourcing model (e.g., professional, manufacturing, operational, process-specific services etc.) are usually well trained and equipped with the latest technologies, ready to deliver. This can furthermore, improve the overall efficiency and productivity levels of the company, as less time is wasted.
Continue with a smooth flow of operation, with little to no disruptions to revenue and sales especially during this point in time of the COVID 19 world which caught every CEO by surprise.
It is not only due to Covid-19, but businesses today are facing a rapidly evolving landscape, including regulatory changes such as General Data Protection Regulation (GDPR), that require them to efficiently manage business operations without breaching regulations. Outsourcing companies can be better equipped to take the hassle of management, as they already practice privacy and security processes.
In this challenging current economic climate, flexibility, agility, and digital adoption are crucial for ensuring business continuity. A recent Deloitte poll found that 32 percent of clients believe there will be less outsourcing when the crisis ends. This is because of inflexible hard contract terms and conditions that may hinder immediate actions essential in response to unexpected changes that the crisis would have presented. This means that today's outsourcing model needs to become more flexible and responsive to different business sectors, so it can foresee and respond to economic trends that affect business performance and markets. Providing speedy solutions, with the required security protocols in place, but also securing mutually beneficial outcomes, have become the new normal in outsourcing.
How SmartPA can support
More than ever before, businesses are realigning priorities and are looking for more resilience against Covid-19 and the lockdown when planning resources for 2021 and beyond. Businesses that adapt to their client's needs are the ones that grow. At SmartPA, our business model has adapted to the new norm, offering clients the most efficient, cost-effective ways to handle their business tasks and admin support. During this time, our call handling services have provided essential support to a range of professional service provides, including solicitors and medical practices, who have been reliant on traditional receptions or high volume of calls. Additionally, our 24/7 service offers all round call service, guaranteeing there is no disruption to service, and assistance is quickly provided to customers/clients.
SmartPA's administration services - including social media, executive assistant, and CRM management have afforded businesses the support necessary to avoid interruption to service. During the lockdown, the occurrence of missing calls due to reception staff working from home and support staff isolating and unable to work – often at very short notice has been prevalent. SmartPA has helped numerous businesses tackle this setback by providing expert administrative support during the coronavirus pandemic.
Furthermore, our Covid-19 business support offers a range of bespoke solutions, perfectly suited to the needs of each individual organisation. Our SmartPAs provide support by filling any temporary gaps in the workplace, helping businesses cope with seasonal demand, and offering world-class services that help businesses continue to flourish, rather than falter.
Andrew Wright, CEO at SmartPA, adds:
"As a business, we currently have more than 300 partners worldwide and are in growth mode in Europe, Africa and the United States. Our roster is catching the eye of corporate clients who are talking about moving into our shared economy, which is exciting. They have been especially impressed by the range of services we offer along with our business advisory piece. Our intelligence, training and continuous learning are pivotal going forward. Ultimately, this is what sets us apart as market leaders in the provision of virtual personal assistants and business support services."
---
About the author
Shelly-Ann Brown is a Business Executive at SmartPA and highly accomplished in the field of business studies and economics with over 7 years of work experience in government, consultancy, academia and the private sector.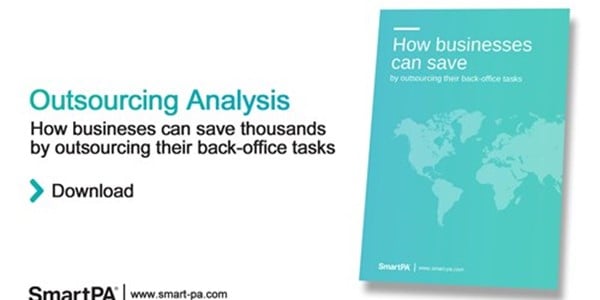 How businesses can save by outsourcing
Our analysis of how businesses can save by outsourcing provides insight into streamlining costs through their back-office processes. Learn more.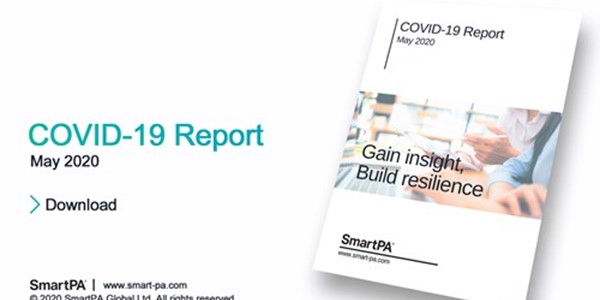 COVID-19: Economic Impact on Businesses Report
The COVID-19 pandemic is testing business leaders across the world like never before.
Download our latest report for business leaders to learn how to adapt strategies and lead through disruption.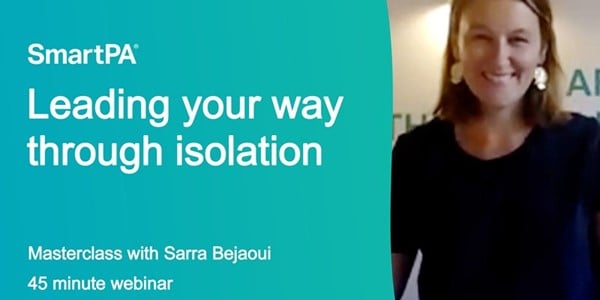 Transformational Leader Masterclass
Lead your way through isolation with our masterclass. This two-part series was designed to provide employees with tips and advice on how to lead through the disruption of Covid-19.
Sign up for our business news where we share growth, productivity and cost saving news.